Welcome to the Cherokee Ruby & Sapphire Mine!
Macon County's ONLY 100% UNSALTED Gem Mine
PLEASE NOTE: "Dig-Your-Own" mining has returned to Cherokee Mine. Be ready to get dirty. — Pre-filled buckets of our 100% Unsalted Gem Ore are also available.
Online purchases also available at https://cherokee-ruby-mine-llc.square.site/
Groups will be seated with sufficient spacing between them for everyone's comfort and safety, so depending on how many and how much spacing, we may end admissions earlier than 3:00 PM due to seating space limitations at the flume.
Cherokee Ruby & Sapphire Mine was visited by The Crystal Collector – a popular YouTube videographer. He has recently written an article about the mine:
http://wheretofindrocks.com/digging-ruby-crystals-in-north-carolina/
Please check out his video!
A visitor to the mine wrote an article!  Read the article:
https://www.tripsavvy.com/best-destinations-for-gem-hunting-4158268   
Like and share it widely!
Cherokee Ruby & Sapphire Mine is the International Gem Society's Number 4 Pick in the Top Places to Mine in the United States: https://www.gemsociety.org/article/mined-in-america/  https://www.gemsociety.org/article/mined-in-America/  (if hyperlink does not work, try cut&paste into your browser:  https://www.gemsociety.org/article/mined-in-america/  )
Ask the experts!! Ask around!! There are only two (2) gemstone localities in the entire world capable of producing the WORLD FAMOUS and WORLD CLASS " investors" or "collectors" grade "Pigeon Blood" colored rubies. #1) The Country of Burma, and #2) The Cowee Valley gemstone locality of Western North Carolina, situated near the Town of Franklin, NC. Check out www.awesomegems.com to learn how gemstones are graded, and to examine their monetary values per carat. Experts also agree that within the United States and it's outlying territories, there are only three (3) gem mines considered by experts capable of producing WORLD CLASS "investors" or "collectors" grade sapphires. The Yogo Gulch sapphire locality located in the State of Montana, the Gem Mountain sapphire locality also located in the state of Montana, and the Cowee Valley ruby and sapphire locality situated in Western North Carolina, near the town of Franklin, NC. Come enjoy the fresh mountain air, natural Caler Creek water flowing through our flume line, and the scenic and serene beauty of Cowee Valley, North Carolina!
OPERATION OF THE CHEROKEE MINE IS "WEATHER PERMITTING". THE CHEROKEE MINE IS CLOSED DURING INCLEMENT WEATHER AT THE ON-SITE MANAGER'S DISCRETION (i.e. Extreme Cold temperatures and / or rain and thunderstorms.) If the Mountain Area weather forecast indicates inclement weather, please call the mine at (828)349-2941 prior to your visit, to ensure that the mine is open. 
PLEASE NOTE: Cherokee Ruby & Sapphire Mine accepts cash and credit cards. At the Cherokee Ruby Mine, we DO NOT and WILL NOT offer gemstone ore that is "Salted", "Enhanced", "Concentrated", or "Enriched" with low grade, semi-precious stones from elsewhere on earth. All of our gemstone ore is 100% from our on-site excavation. We are the ONLY 100% unsalted mine in Macon County. Our two gallon buckets of ore contain a virtual treasure trove of naturally occurring Cowee Valley "gem quality" gemstones, including: WORLD CLASS and precious investors or collectors grade Rubies and Sapphires, the extremely rare Star Rubies, Star Sapphires, and Star Garnets, cabochon quality Rubies and Sapphires, and semi-precious gem quality Rhodolite Garnets, Pyrope Garnets, Moonstone, Rutile, Siliminite, Kyanite, Corundum, Clear Quartz Crystals and Smokey Quartz Crystals. These gems are native to the Cowee Valley gemstone locality, and again, many found are of facetable investors or collectors grade quality. Gemstones are like anything else in life…….it is the QUALITY that counts. Although "Diamonds Are a Girl's Best Friend" a ruby of the exact grade and quality, as well as many other gems and minerals, are much more expensive than diamonds. In fact, more and more women around the world are trending toward desiring rubies and sapphires, over diamonds, as wedding engagement offerings.
Each year, thousands of people from around the world flock to the popular Western North Carolina Town of Franklin to experience the thrill of finding rare gemstones in the rough.  Whether you are a serious or amateur rockhound hoping to fulfill dreams of finding hidden treasures, a teacher desiring a unique learning experience for your students, or a family seeking quality outdoor recreation, we invite you to browse our website to learn more about what the Cherokee Ruby and Sapphire Mine has to offer. See you on the flume line!!
* Please note that management reserves the right to end admissions prior to 3:00 PM based upon to operating conditions and capacity.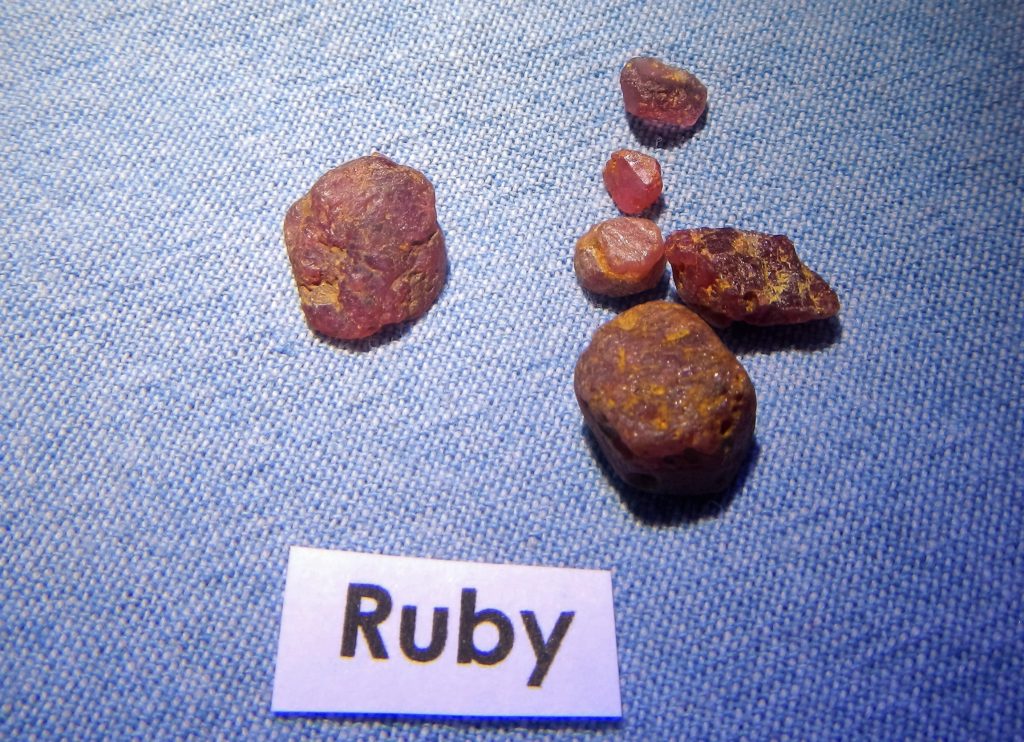 Ruby = passion…
Ruby-red. The most important thing about this precious stone is its color. The name 'ruby' was derived from the Latin word 'rubens', meaning 'red'. The red of the ruby is incomparable: warm and fiery. Two magical elements are associated with the symbolism of this color: fire and blood, implying warmth and life for mankind. So ruby-red is not just any old color, no, it is absolutely an undiluted, hot, passionate, and powerful color. Like no other gemstone, the ruby is the perfect way to express powerful feelings. A ring or pendant set with a precious ruby found by you at the Cherokee Mine bears witness to the passionate, unbridled love that people can feel for each other.
Color is a ruby's most important feature. Its transparency is only of secondary importance. So inclusions do not impair the quality of a ruby unless they decrease the transparency of the stone or are located right in the center of its "table". On the contrary: inclusions within a ruby could be said to be its 'fingerprint', a statement of its individuality and, at the same time, proof of its genuineness and natural origin. The cut is essential: only a perfect cut will underline the beauty of this valuable and precious stone in a way befitting the 'king of the gemstones'. However, a really perfect ruby is as rare as a perfect love.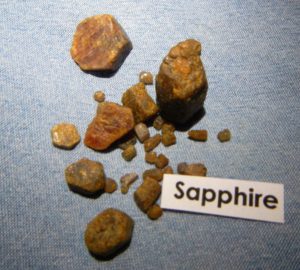 Sapphire
Most folks don't realize that rubies and sapphires are actually the exact same mineral – called "corundum." Sure… you hear of pink, blue, white, lavender and other colored sapphires, but have you ever heard of a "red sapphire"? Of course not – because they are traditionally called rubies.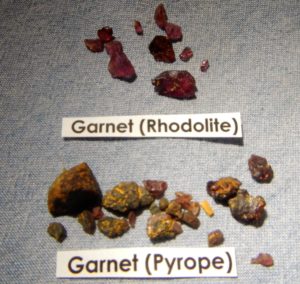 Garnet
The mineral known as Garnet has been used since the Bronze Age as both valuable gemstones and lowly abrasives. Like rubies, garnets are most often associated with the color red, but like corundum, it also appears in a variety of colors spanning the entire color spectrum.
The name "garnet" comes from the Latin granatus ("grain"), which is thought to possibly be of reference to the pomegranate – a fruit with deeply translucent red seeds similar in shape, size, and color to some garnet crystals found in our mine. In the USA garnets are the January birthstone, the traditional gemstone for the 2nd wedding anniversary, the state mineral of Connecticut, and the official gemstone of New York.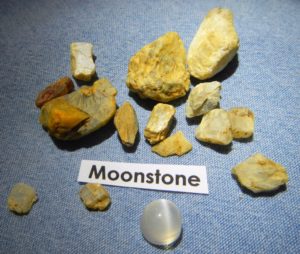 Moonstone
Moonstone comes in a variety of colors, but the most prevalent at Cherokee Mine are of a bluish-grey to white/light grey variety. The most notable visual effect of polished moonstone is adularescence, which is a stunning visual effect similar to that of opals. It is the gem variety of feldspar. In the rough, the single best identifier of most moonstone is the reflective surfaces caused by "Perfect Cleavage", which is the mineral's ability to split on perfectly flat parallel planes.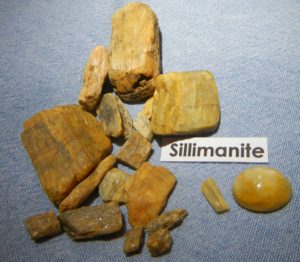 Sillimanite
Sillimanite in the rough is best describe as appearing similar to petrified wood. When polished, it is very similar in appearance to Tiger's Eye, due to its property of chatoyance. It comes in a variety of colors, and the different colors can be intermingled. In a mining screen, it is often confused with fine-grained amphibolite. Allowing specimens to dry completely aids in identification.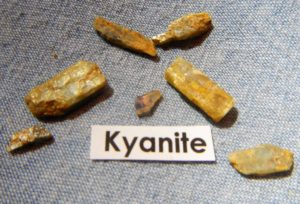 Kyanite
Kyanite is named for the color cyan, and can range from blue green to deep blue, although other color variations are possible with trace mineral contamination. Generally, Kyanite forms blades, and can also form larger masses. It tends to fracture on parallel planes, and is often found in rectangular shapes. The color may be evenly distributed through the crystal, though at times it can be concentrated at the middle of the crystal, forming and intense stripe or dot of color.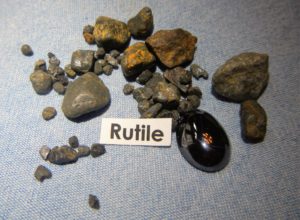 Rutile
Composed primarily of titanium dioxide, rutile has among the highest refractive indices of any known mineral and is found in metallic grey, an earthy reddish/brown, violet or jet black. It strongly resembles hematite when cut, and when mounted, makes a striking primary or accent stone.
Cherokee Ruby & Sapphire Mine
Just 4 miles off Bryson City Road/SR28
41 Cherokee Mine Road
Franklin, NC 28734
828-349-2941
Daily 10am to 4pm
Closed Saturdays
DIRECTIONS: Come Early
DO NOT TAKE COON CREEK ROAD, FLOWERS GAP ROAD, or RUBY KNOLL ROAD.
From the SOUTH: Take US441 North to the US441 BYPASS (right after the Nantahala Bank (which is after the Sonic and Walgreens)). Continue on the Bypass past the Ford dealership on the left. At this point, get in the left lane. As you go over the hill, prepare to make a LEFT onto SANDERSTOWN ROAD (look for the Mountain City Homes sign on the left – that is your turn). Continue approximately 3 miles on Sanderstown Road until it ends in a "T" Intersection, then turn RIGHT onto Route 28 NORTH/Bryson City Road. See directions with photographs below for the rest of the route to the mine.
From the NORTH: Take US441 South. DO NOT TAKE FLOWERS GAP ROAD OR COON CREEK ROAD. You will be taken to a gated community and have to turn back! After passing Gold City on your right, proceed down the mountain until you see the Park-And-Ride and a modular-home building company on your right – turn right here onto SANDERSTOWN ROAD. Continue approximately 3 miles on Sanderstown Road until it ends in a "T" Intersection, then turn RIGHT onto Route 28 NORTH/Bryson City Road.
Continue north, and just after the Cowee Baptist Church,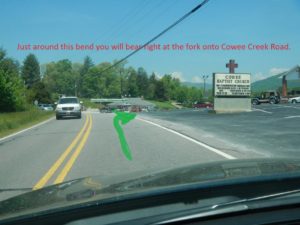 Bear right onto Cowee Creek Road (There is a brown sign that says "COWEE – WEST MILLS HISTORIC DISTRICT".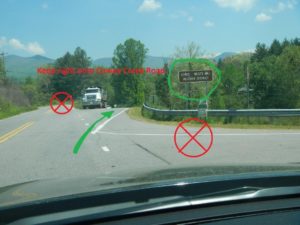 Keep right past the historic Rickman General Store.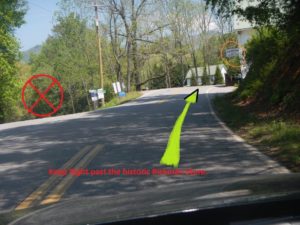 Go approximately 1-1/2 miles to the fork in the road and KEEP RIGHT onto RUBY MINE ROAD.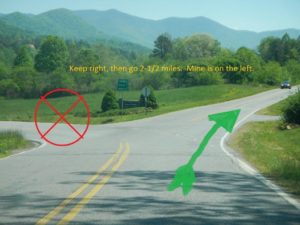 Proceed 2-1/2 miles and the mine is on the left.
Franklin, NC
36°
clear sky
humidity: 84%
wind: 1mph WNW
H 46 • L 39
Weather from OpenWeatherMap
Please contact us today for more information about bringing a group to The Cherokee Ruby Mine, as we are currently scheduling our latest program calendar…
Upon arriving at the mine proceed to the parking area next to the flume. Here is where you will pay your entrance fee, read your Safety Orientation and…
Click HERE for complete pricing information.  Admission fees are non-refundable. Everyone pays the admission fee regardless of participation.
Though visiting the Cherokee Ruby & Sapphire mine should be enjoyable and educational, there are inherent dangers associated with active mining operations…
This is the Cherokee Mine Rack Card, which may be found at the Franklin Chamber of Commerce, and other locations around the Franklin Area.
About the Cherokee Ruby Mine
The Cherokee Ruby and Sapphire Mine is a "placer" gem mine. The term "placer" refers to mineral bearing deposits of ancient sand, dirt, and gravel which were left behind by ancient glaciers, rivers, or other flowing waters, also known as "alluvial deposits". The material of these placer deposits contain precious gems and other semi-precious gems and minerals. Only NATIVE Cowee Valley North Carolina gems and minerals can be found at our mine. We do not offer "salted" or "enriched" or "rainbow" bearing gemstones to our mining customers. Throughout the years, experienced ruby/sapphire miners and "rock hounds" all know that the majority of the largest and finest "gem quality" Cowee Valley, NC rubies and sapphires have all been found at the Cherokee Ruby and Sapphire Mine.
For thousands of years, the ruby has been considered one of the most valuable gemstones on Earth. It has everything a precious stone should have: magnificent color, excellent hardness and outstanding brilliance. In addition to that, it is an extremely rare gemstone, especially in its finer qualities. The term 'corundum', which we use today, is derived from the Sanskrit word 'kuruvinda'. The Sanskrit word for ruby is 'ratnaraj', which means something like 'king of the gemstones'. Ruby is the red variety of the mineral corundum, second only to diamond, corundum is now considered to be the hardest mineral on Earth.
Sapphire is also a variety of corundum. Pure corundum is colorless. Slight traces of elements in corundum such as chromium, iron, titanium or vanadium are responsible for the colors of gemstones. Only red corundum is entitled to be called ruby, all other colors being classified as sapphires. Ruby, this magnificent red variety from the multi-colored corundum family, consists of aluminum oxide and chromium as well as very fine traces of other elements – depending on which deposit it was from. Millions of years ago, when the gemstones were being created deep inside the core of the Earth, chromium was the element which gave the ruby it's magnificent color. Rubies of more than 3 carats in size are very rare. Rubies with hardly any inclusions are so valuable that in good colors and larger sizes they achieve top prices at auctions, surpassing even those paid for diamonds in the same category.
Some rubies found at the Cherokee Mine display a wonderful silky shine, the so-called 'silk' of the ruby. This phenomenon is caused by very fine needles of rutile. Now and then one of the rare star rubies is found at the Cherokee Mine. Here too, the mineral rutile is involved: having formed a star-shaped deposit within the ruby, it causes a captivating light effect known by the experts as asterism. If rubies of this kind are cut as half-dome shaped called "cabochons" the result is a six-spoked star which seems to glide magically across the surface of the stone when moved. Star rubies are very precious rarities. Their value depends on the beauty and attractiveness of the color and, though only to a lesser extent, on their transparency. Fine star rubies, however, should always display rays which are fully formed all the way to the imaginary horizontal line which runs through the middle of the stone, and the star itself should be situated right in the center.
If you are just interested in finding something neat, I would recommend one of the salted places. It takes less time and you'll find something, but won't be worth much. True rockhounds go to places like Cherokee to find only native gems and minerals.
About Mining In Macon County
Mining for ruby and sapphire began in Macon County in 1870. Called corundum, low grade rubies and sapphires were mined commercially for abrasives (i.e. sandpaper) and gave work to many men. Corundum and other minerals such as mica and kaolin, were hauled to the railroad by horse and wagon and shipped out of Macon County in large quantities. William Earl Hidden, for whom the mineral "hiddenite" is named, was sent from New Jersey by Thomas Edison to North Carolina to find sources of industrial minerals. W.E. Hidden is credited with the discovery of the variety of garnets known as Rhodolites, which he found during his explorations of the Cowee Valley. Tiffany's purchased the entire Cowee Valley in the 1890's, and then two other companies, American Prospecting & Mining Co. and US Ruby Mining Co., also began work hoping to find the source of the extremely high grade rubies and sapphires found within the corundum mines. Do not take Coon Creek Road, Flowers Gap Road, or Ruby Knoll Road.. All three companies ended the search in the early part of the 20th century leaving the area open to rockhounds and gem enthusiasts.
The actual source of our rubies and sapphires has never been found – yet.
Please be aware that the only official source of information regarding The Cherokee Ruby & Sapphire Mine in Macon County, North Carolina is this website (www.cherokeerubymine.com). We are not responsible for any inaccurate information found on any third-party website or other independent source of information. Any errors or inaccurate information found on www.cherokeerubymine.com is strictly our responsibility, and we strive to keep the website up-to-date and accurate. If any errors are found on www.cherokeerubymine.com we will correct them expeditiously. We are not responsible for any inconvenience, aggravation, loss or general negativity due to inaccurate information on any website or from any source other than www.cherokeerubymine.com.
Thank you for your understanding and cooperation.